---
Do you feel that? That crispness in the air? You know what that means. It's time for another delicious CEG LAN party in ASC 1008! Dust off your UGG boots and get out your finest yoga pants, because this isn't just any LAN. Oh no. This is a Pumpkin Spice LAN!
CEG: PSL is scheduled for October 7th 2017 from 9:00am till 9:00pm located in the Arts & Science Commons room 1008 in Big Rapids Michigan for a total of 40 attendees. Like any of the other best things in life, this LAN is FREE.
More information at http://ceg.ferris.edu !
| | |
| --- | --- |
| START: | 10-07-2017 09:00AM |
| END: | 10-07-2017 09:00PM |
---
---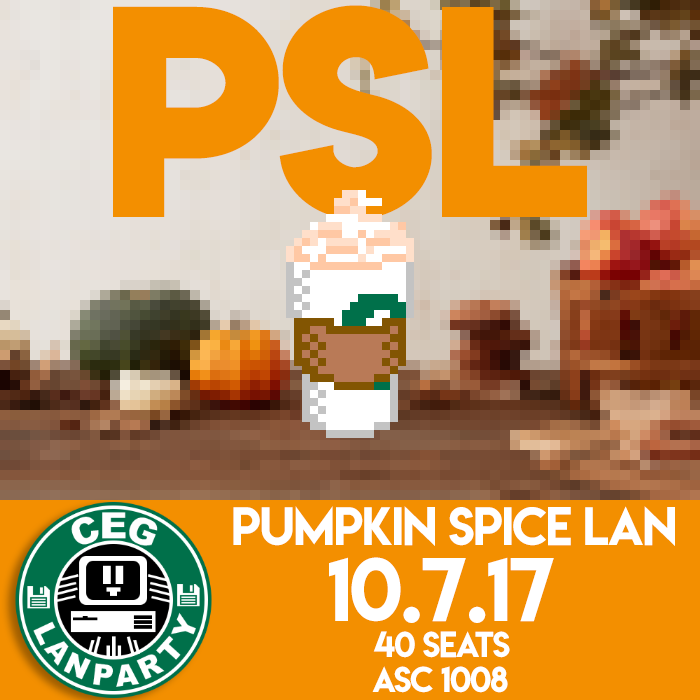 WHO HAS SEATS?
[a2m]Skipperdo
Aeguus
Barhouve
Beastling
BouvToTheMax
Captin Chromosome
Ch0wsie
Chaserhw
cob
Daggerss
deadshadow199
Delabean
Foefum
Gavin
Grouty
hogbro
ImagineAphantasia
Jackeh(rip)
jimmyabes26
logman
McClain
Mogerin
MoparManiac
mrkola
nonhofe
PhiladelphiaCollins
Raz
RisingPhoenix
Sasleigh
saturdayxsugar
skippymagictoad
SlavemasterIDE
Sparty
stinkywag
treyswaq
Tripc897
twichey
WhtEouldJesusDO
YeastLord